I think energy balls are a great snack food! They travel well, are easy to pop into your mouth while on the go, and can provide great little pick-me-up. I frequently make them as a post-training snack in my daily life, giving me the fuel I need to deal with the public transit ride home. When I want to try out a new recipe, I typically scour Pinterest and it never diappoints with endless options to choose from. Here are my thoughts on the last few recipes I've tried out, including the real winner, that has earned a place in my pack for my upcoming trip.
The first recipe I tried out was Pineapple and Coconut. I know, right? A tropical cocktail in energy ball form? YES PLEASE! Unfortunately, I was pretty disappointed. The recipe called for a whole cup of dates and I found that they really overpowered the other flavours. I might try adjusting the recipe in the future to see if I can make it work, but it's a pass for now.
Next up: Raspberry and Coconut!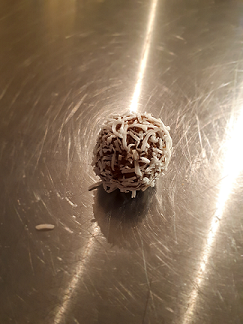 I was pretty excited to try these out, but I found them to be disappointing as well. This recipe called for only 1/3 of a cup of dates, so no problems there, but it also called for both almonds and almond butter. Guess what the predominant flavour in these balls was? If you guessed almonds, you get a gold star! This recipe was okay, but really didn't wow me. Again, I could probably alter the recipe to make it work, but with all that Pinterest has to offer, I decided to just move on to the next candidate.
Aaaaaand the winner by a landslide... Dark Chocolate and Cherry!
These balls were SO good, and with only a handful of ingredients, they were really simple to make! I found that I needed to add a little bit more water than the recipe called for to bring the mixture together, but that could have been because I added a tablespoon of chia seeds and a tablespoon of ground flax, or maaaaybe because I practically doubled the chocolate chips. What? The bag slipped. In any case, it just took a teeny bit more effort to shape these into balls, and they set up just fine once I got them into the fridge for a bit. These little bites are nutty, but you can still tasty the cherries and the chocolate. Energy ball win!

Dark Chocolate Cherry Energy Bites
1 cup Cherries, dried
10 Dates, pitted
2 cups Almonds, whole
1 pinch Sea salt, fine
1 tbsp Chia Seeds *optional*
1 tbsp Flaxseed, ground *optional*
1/4 cup Mini Chocolate Chips (or a bit more, if nobody's looking)
2 tsp Water
Add all ingredients, except for the chocolate chips and water, to a food processor and process until the nuts are chopped medium-fine and the entire mixture is coarse and crumbly. This step may take 5 minutes or more, and you may need to scrape down the sides of the bowl a few times. I like to roughly chop the dates by hand before I add them, just to help them break down a little easier. Once the mixture is uniformly coarse, slowly add the water while the machine is running, until the mixture starts to hold together. Turn off the machine, and stir in the chocolate chips. Using a heaping teaspoon or a small tablespoon, portion some of the crumbly goodness into your hands and shape it into a ball. Repeat. Pop the balls into the fridge for about an hour to allow them to firm up. 
That's it for this ball round-up! Do you have a good energy ball recipe that you'd like to share? Leave me a comment below!