| | |
| --- | --- |
| Posted on April 26, 2018 at 2:30 PM | |
Lately I've been thinking a lot about bugs... specifically biting ones. I know mosquitos and black flies are a part of spending time outdoors. My solo trip is in early June, which is prime season for both those pesky bloodsuckers, and I know that going in. I've heard some people say that they didn't find them to be that bad, and other people telling me that I'll be eaten alive, so I have been hoping for the best, but preparing for the worst. HOWEVER... with our late start to Spring, I'm thinking it's extremely unlikely that I'm going to luck out. I tend to react to most bites and swell up, but my skin is also quite sensitive and I hate the thought of putting harsh insect repellants directly on my skin. So what's a girl to do??
I have a homemade bug spray that I affectionately refer to as 'urban bug spray'. It works pretty well in parks here in the city, but I have zero faith in its ability to be my sole protector out in the bush. In case you're curious, I've posted the recipe in the recipes section of my website. But this got me thinking about the idea of layering fragrances, the way one would with perfumes. I could certainly use the spray, but a lotion would be better. So I asked myself what is the one thing you put on your skin, without fail, when spending the day outdoors? SUNSCREEN! So I took some sunscreen (I prefer a mineral sunscreen, without fragrance, that is good for sensitive skin), and blended in the same mixture of essential oils that I use in my spray. Do I expect this to work as well as an insect repellent that contains DEET? No. But I am happy with it as a first line of defense that I feel comfortable putting directly on my skin.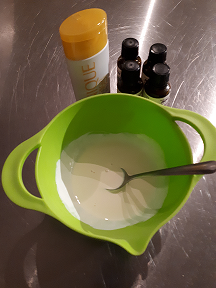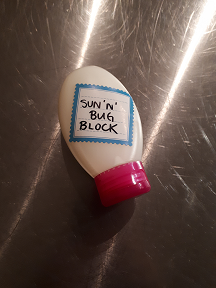 So now that I've taken care of my first layer of protection, it's time to break out the big guns! This means a heavy duty spray, and a bug https://amzn.to/2KAuBAG" target="_blank">jacket and https://amzn.to/2jvAYsF" target="_blank">pants combo that is oh-so-stylish! At least I can spray down all my clothes and the insect netting, and minimize the contact my skin has with the harsh repellent. 
Am I still going to end up as a bugs breakfast? Only time will tell. But at least I can say I'm prepared for it!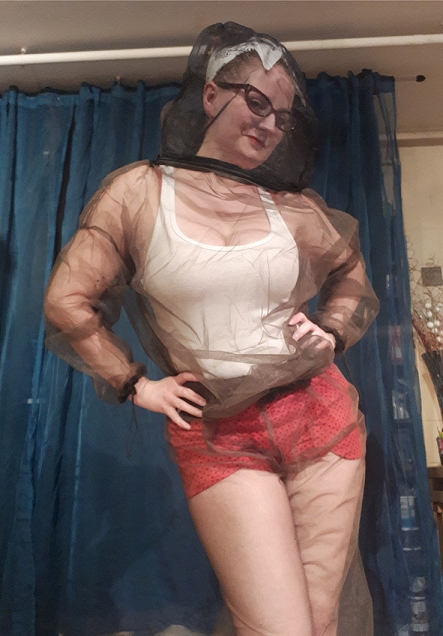 *UPDATE*
Nothing worked, except for the bug suit, when I was actually wearing it. Neither my homemade lotion nor the Muskol held up against the Algonquin black flies and mosquitos in June. The blend of essential oils in my lotion DID help soothe the bug bites a little, so there was that. A friend of mine has recommended the cllip-on Off! fan units, so I'll give those a try next time I'm out.