I haven't posted much recently, because… well, life. With a serious backlog of posts to get through, I thought now would be a good time to delve a little into my first trip to Algonquin. This was the trip that rekindled the campfire (ha ha … get it?), so it seems a logical place to start. Let's head off on a little trip down memory lane…
In 2016, my younger sister was going to come up to visit from the US. I don't remember how we came to the decision that we should go camping, but as camping was what we did for family vacations when we were growing up, it seemed like a great idea! Being the compulsive planner that I am, I was all over that! But where to go?? The campground we used to visit as children has long since been turned into an annual RV campground. I immediately took to Facebook and polled my friends on their favourite campgrounds. I got many suggestions, most of which were Provincial parks, and Algonquin was amongst them. I was intrigued, but… wasn't Algonquin all deep woods, scary wilderness camping and really, really far away? I jumped online and started researching. Funny how our perceptions of things change as we get older. I must have gone through the site maps for every campground along the highway 60 corridor, and my sister and I decided on a lakeside site in the Mew Lake campground. Booked! Perfect! But wait… a little voice started creeping into my head… *real talk alert* 'You're camping alone. Without a man in charge. YOU are the one in charge. You're the older sister, so you damn well better make sure everyone comes home safe and with all limbs intact!' Anyone who knows me, knows how ridiculous those thoughts are. I am fiercely independent and don't feel the need to rely on anyone (male or female) to do things. So I did what I do best to shut that voice up… I planned. I brushed up on my first aid skills. I researched things online. I went through all our gear with numerous checklists. I took special care in planning our menu, as I know my sister can sometimes have some dietary issues, and I didn't want anything to interfere with us having a good time. And at the end of the day, we were car camping. If something went south, we could get in the car and drive home.
Besides… we were camping in a campground. It's not like we would be in the backcountry. We have always kept a clean campsite and keep our food in the car, so really… the worst we would have to deal with is mosquitos, right…?


This sign greeted us at the campground office. In hindsight, I think bears are a much bigger problem at the campgrounds than they are in the interior, but it's probably best that I didn't realize that before this first trip…
We got to our campsite, and it was absolutely beautiful! Time to set up! But you know what they say about the best laid plans… The pump we were planning to use for our air mattress turned out to be incompatible with the mattress itself. My sister gets bonus points for thinking she was going to blow it up herself. Eventually one of our neighbours noticed, took pity on us, and brought over her pump. Turns out there was a hole in the air mattress, but we wouldn't discover THAT until the next morning when we woke up on the ground! We finished setting up, got the fire going, and made dinner. It had been a pretty successful first day, despite a few minor mishaps. All those skills I hadn't used for years were still there! The bugs weren't even that bad! Perfection!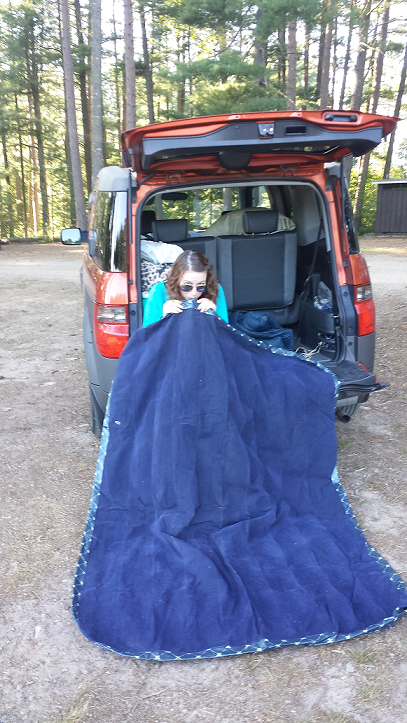 After a leisurely breakfast, we got ready to head over to Canoe Lake, where we were planning to rent a canoe for the day. Uh oh. Car troubles! Our car wouldn't start! No worries… neighbours to the rescue again, this time with jumper cables! It's funny how much friendlier everyone seems when they're on vacation (or maybe I was just used to standoffish city living…;).
We spent a lovely day out on the lake, and I even convinced my sister to jump in, which is pretty impressive as her Northern blood has thinned considerably since moving to the Southern US! Granted, she didn't stay in the water very long, but she still did it!

That evening, we went for a stroll down to the beach, to do a little star gazing. Constellations, the Milky Way, the moon seemed huge… it was all amazing! Much needed sister bonding time! Try as I might, I could not manage to capture any of it in photos. Clearly cell phone cameras are not meant for astral photography. There is one picture which has become an ongoing joke between my sister and me; it looks completely black until you turn the brightness on your screen all the way up, then you can see ONE star. Just ONE. I refuse to delete it, and still send it to her frequently when we're chatting.
The next day, we were planning to hike the Mizzy Lake trail. It is a loop just over 10km long, and they recommend giving yourself a full day to do it properly, but it is supposed to offer some of the best chances of spotting wildlife of any of Algonquin's Interpretive Walking Trails. Sounds great! Packed up my little day bag, and we're ready to head off! Just one problem… the car was dead again. The neighbours weren't able to help us this time, and since cell service was extremely poor, we decided to head to the campground office. The woman there was very helpful and said that she would send the maintenance guys over after their lunch break, to see if they might have any luck. We walked back to our site and waited, and thankfully the guys were able to get us started up. Surprisingly, I wasn't freaking out about any of this, which was very unlike me. It even turned into an inside joke, when the maintenance guys came around to check on us the next morning! By now, we decided it was too late in the day to start the Mizzy Lake trail, so we headed over to the Bat Lake Trail instead. This was a 5km loop that explores some of the basic ecology of Algonquin Park, including different types of forests, a bog, a lookout point, and views of Bat Lake. It was a gorgeous walk and educational, too!
Packing up our gear on the final morning was a little sad, but we had a great time together. After the car was packed and our site was clear, we decided to walk the Whiskey Rapids trail before heading home. This 2.1km loop follows part of the Oxtongue River, and was a great way to end the trip. I think we both learned/rediscovered a lot about ourselves in those few short days, in a way that only being out in nature can accomplish. Above all, the importance of unplugging for a few days was paramount! Now that I knew just how easy it was to get to the park, I knew I would be back! Maybe I would plan something a little more rustic and adventurous for my next trip…