| | |
| --- | --- |
| Posted on August 20, 2018 at 4:25 PM | |
Having just posted my recap of my first trip to Algonquin and the air mattress mishaps that went along with that trip, I thought it would be a good time to post my thoughts on my current sleeping pad- the Klymit Static V Sleeping Pad.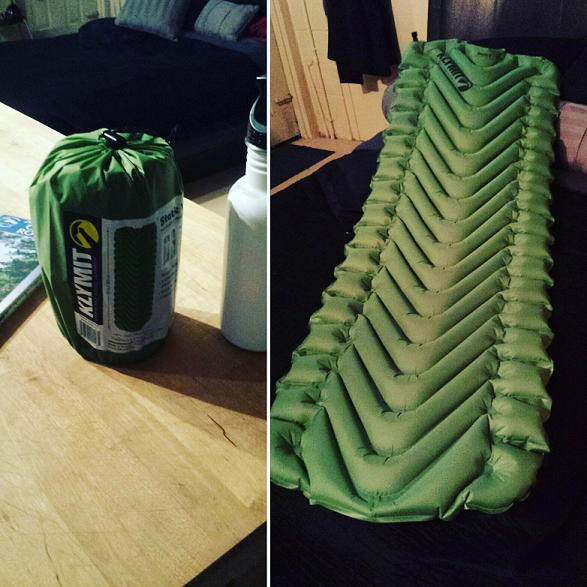 This sleeping pad has been great so far! It measures 59cm x 183cm, takes between 10-20 breaths to blow up, and packs down to the size of a water bottle, which is amazing, and far better than the bulky air mattresses that I've used in the past. The Static V weighs in at 18.1oz and has an R value of 1.3. It holds the air well, possibly only needing one breath to top it up in the morning (if that). What really intrigued me when I was researching sleeping pads was that this one was supposed to be good for side sleepers. I've taken it on three trips since I bought it, and I've found it to be quite comfortable, whether I'm sleeping on my back, side, or stomach. I just pop it inside my sleeping bag, and I'm good to go! If you're sitting or kneeling, you will absolutely still feel the ground, but once you lay down and your bodyweight is spread over the entire pad, it works very well. I'm still on the fence about whether or not I should have spent a little extra and got the insultated version (with an R value of 4.4) as I tend to be cold when I sleep, but overall, I'm very happy with this purchase! You can click the Amazon link, and check it out for yourself!